Blown Up, Let Down is the fifth episode from the second series.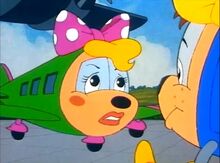 Plot:
Pippa tricks Budgie into thinking she has gone to America with Gus. Budgie sets off in pursuit and to make matters worse, he has run out of fuel and lost at sea! Will Budgie be founded and rescued rescued by the navy.
Triva:
This is first and only time Pippa cries in tears for Budgie after explaining to Dell what had happened.
First and only appearance of Gus.